Explore the all new Haakaa Gen 3 breast pump and accessories
"MUST HAVE FOR ANY NURSING/PUMPING MAMA"
This pump is incredible!!! Was looking for something to collect my let down on opposite side while nursing my babe... this works perfect! The suction is incredible it stays put even while walking around! Pumping on the go is a breeze, takes up very little room in my diaper bag and is easy to clean!!!
~ Laken
The Haakaa pump works using suction. The flexible flange molds to the shape of your breast to create a strong seal. The suction gently encourages a let down as you nurse or pump to collect the excess milk in your breasts. It can be used on the go, while nursing or pumping, or relieve pressure of oversupply.
The simple design is what moms love about the Haakaa pump. It works with your body in a natural and simple way.
It fits all shapes and sizes of breasts and can work in all parts of your breastfeeding journey.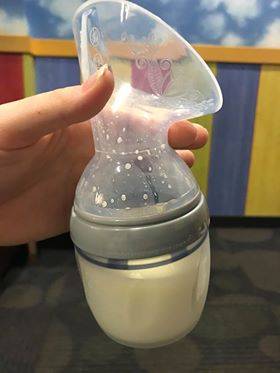 Oversupply
The Haakaa pump gently relieves the pressure of oversupply that often comes while your milk is regulating. The pump only removes the excess milk and doesn't trigger additional let downs it won't continue the cycle of oversupply, like an electric pump will.
On the go
The simple design of the Haakaa pump makes it ideal for pumping on the go. Just toss it in your bag and pump where ever you are. The sealing discs make the perfect accessory to turn your pump in a storage container when you are out.
At home
The Haakaa pump is perfect for pumping at home to build a freezer stash for when you want to go out. Use it while you are nursing to collect your let down so you don't waste a single drop of that liquid gold. The lid is liquid tight so you can use it to store your milk in the fridge or on the counter.
The Gen 3 Haakaa pump features a removable pumping flange so that your pump can become a complete system. Simply add a sealing disc or nipple to complete your set. The sealing disc turns the collection container into a storage container for milk or when you are done breastfeeding use is as snack cup! The anti-colic nipples are the perfect way to turn your pump into a bottle to feed your milk to your little one. The soft nipple and bottle make it a favorite for breastfed babies.
Boosting your milk supply naturally